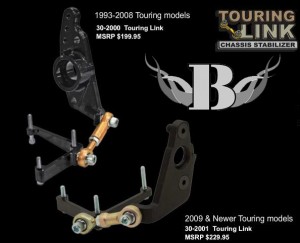 Finally an inexpensive and easy to install solution to the handling challenges faced by most touring models. Does not hang below the frame or impede ground clearance.
Keeps motor/swingarm assembly aligned with chassis without introducing unnecessary vibration to the rider.
The motorcycle tracks much much better, no more lane drifting. I can plant it on the white line and keep it there. The turns are much more stable. Low speed handling is much better and high speed interstate handling is much much better. It rides and handles like a different bike and pretty much ignores all of the road imperfections. Its amazing that a stupid little link makes that much difference. It should be a mandatory for all baggers!
[youtuber youtube='http://www.youtube.com/watch?v=ceesvy4zUXo']