Our shop and the Dragonfly Road Warrior were featured in the East Coast Biker Magazine November 2009.
The Ultimate Neighborhood Bike Shop
It takes rare birds to build better bikes
Story by Loretta Jackson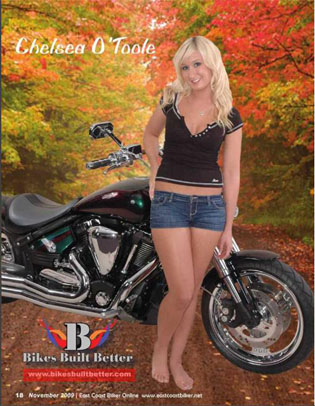 It's a rare bird who operates a neighborhood bike shop with no wish for the shop to morph into a glitzy mega-dealership. Well, meet two such rare birds: Joe and Chuck, owners of Bikes Built Better, 133 Horsham Rd., in Horsham, PA. They're a pair of men on a simple mission: they want Bikes Built Better to be every rider's Ultimate Neighborhood Bike Shop.
This is a pair of guys whose idea of a fiery pit in hell is having a motorcycle shop with dozens of haughty employees who could care less about a rider who stops in for some help. Joe and Chuck don't ever want to be that big. They see no need for a phone-answering system that asks, "If you'd like to blow your brains out after all these questions, please press nine."
Chuck says, "We started Bikes Built Better because we were disgusted at the way some of the big motorcycle shops were treating their customers." Joe adds, "We have a shop where riders can stop in for any reason. They can come in for a turn signal bulb, service, maintenance, a repair—or to plan the motorcycle of their dreams." As a result, Bikes Built Better has become the shop of choice for people who share a love of motorcycles. Joe and Chuck keep it real.
Bikes Built Better is a place where the coffee's always fresh and hot. It's a place where building a customer's dream bike is a quest for perfection. Joe and Chuck discuss in detail the rider's personal vision for the project. Factors such as bike size, the rider's level of experience and the intended use for the bike are considered. A show bike will be fabricated with the same level of quality and dependability as one whose owner is intent on screaming cross country, hell bent on reaching Sturgis by morning.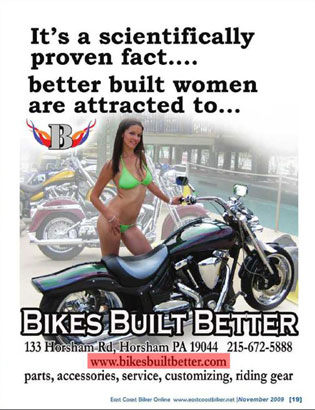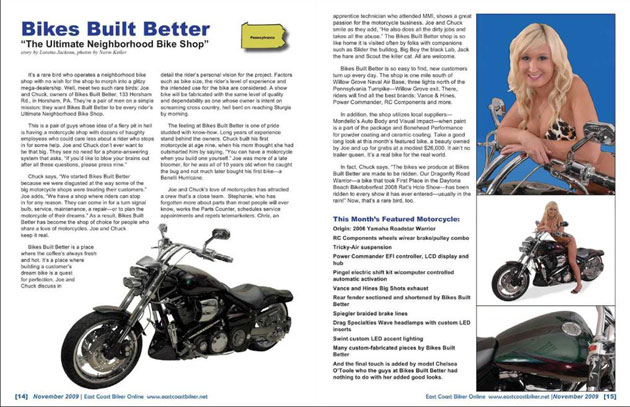 The feeling at Bikes Built Better is one of pride studded with know-how. Long years of experience stand behind the owners. Chuck built his first motorcycle at age nine, when his mom thought she had outsmarted him by saying, "You can have a motorcycle when you build one yourself." Joe was more of a late bloomer, for he was all of 10 years old when he caught the bug and not much later bought his first bike—a Benelli Hurricane.
Joe and Chuck's love of motorcycles has attracted a crew that's a close team. Stephanie, who has forgotten more about parts than most people will ever know, works the Parts Counter, schedules service appointments and repels telemarketers. Chris, an apprentice technician who attended MMI, shows a great passion for the motorcycle business. Joe and Chuck smile as they add, "He also does all the dirty jobs and takes all the abuse." The Bikes Built Better shop is so like home it is visited often by folks with companions such as Slider the bulldog, Big Boy the black Lab, Jack the hare and Scout the killer cat. All are welcome.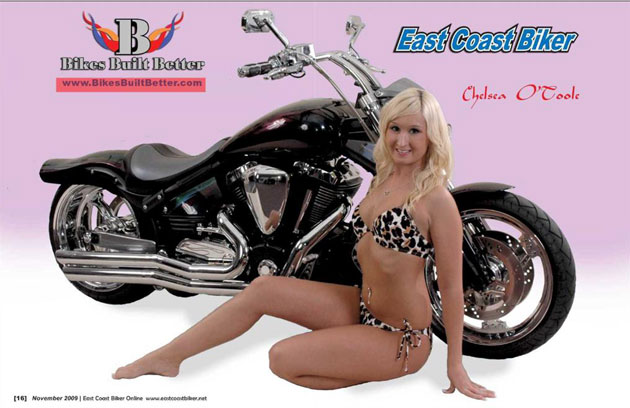 Bikes Built Better is so easy to find, new customers turn up every day. The shop is one mile south of Willow Grove Naval Air Base, three lights north of the Pennsylvania Turnpike—Willow Grove exit. There, riders will find all the best brands: Vance & Hines, Power Commander, RC Components and more.
In addition, the shop utilizes local suppliers—Mondello's Auto Body and Visual Impact—when paint is a part of the package and Bonehead Performance for powder coating and ceramic coating. Take a good long look at this month's featured bike, a beauty owned by Joe and up for grabs at a modest $26,000. It ain't no trailer queen. It's a real bike for the real world.
In fact, Chuck says, "The bikes we produce at Bikes Built Better are made to be ridden. Our Dragonfly Road Warrior—a bike that took First Place in the Daytona Beach Biketoberfest 2008 Rat's Hole Show—has been ridden to every show it has ever entered—usually in the rain!" Now, that's a rare bird, too.
*RC Components wheels w/rear brake/pulley combo
*Tricky-Air suspension
*Power Commander EFI controller, LCD display and hub
*Pingel electric shift kit w/computer controlled automatic activation
*Vance and Hines Big Shots exhaust
*Rear fender sectioned and shortened by Bikes Built Better
* Spiegler braided brake lines
* Drag Specialties Wave headlamps with custom LED inserts
*Swint custom LED accent lighting
*Many custom-fabricated pieces by Bikes Built Better