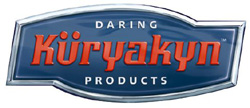 As an authorized dealer for Küryakyn products we have a large selection of our most popular Küryakyn products in stock here at our showroom. Küryakyn has to many motorcycle accessories for us to possibly stock them all but through our distributers most can be obtained in 1 to 2 days.
Non distributed Küryakyn motorcycle parts and accessories can be ordered directly. As an authorized dealer for Küryakyn we have direct line for product support warranty and replacement components. Küryakyn makes a huge selection of motorcycle accessories for Harley Davidson, Goldwing, Honda, Kawasaki, Yamaha, Suzuki and CanAm motorcycles.
Küryakyn innovation is manufactured into all their motorcycle products such as Audio, Lighting, Accessory Mounts, Handlebar Controls, Foot Controls, Chrome Accents, Luggage, Touring & Comfort, Air Cleaners, Exhaust, Performance. Küryakyn accessories are born from a passion for motorcycles style and performance.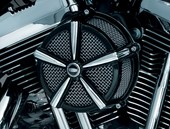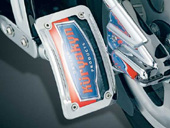 Whether you are just looking for more comfortable grips or upgraded foot pegs accessories in stock and usually can be installed while you wait or you are have custom work done we have some the most popular items to get the job done right here in our store. Turn signals, lighted license plate brackets, mounting clamps, pegs, grips and more.
We have utilized and modified many of Küryakyn's products in our custom builds and they have delivered years of dependable service and style. For more information on motorcycle accessories for your motorcycle from Küryakyn stop in and browse the catalogs or visit their website and select your year make and model motorcycle for the most up to date product listings. http://www.kuryakyn.com/