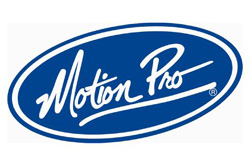 When it comes to quality cables for your motorcycle there are only a few manufactures we go to to ensure the best quality. Motion Pro® is one of them. Bikes Built Better also stocks Motion Pro cable fittings assorted outer housings and inner cable if you are in need of a custom cable that no one possibly makes we can many times make it for you here in our shop.
Motion Pro® is dedicated to producing the best cables in the powersports industry. Motion Pro products deliver performance, quality and value. Race proven is not just their slogan; it's a guarantee that Motion Pro products deliver the performance and quality champion's demand. They have a lineup of V-Twin cables a product for every need. From standard OE replacement to show bike custom, Motion Pro has the cables you need. Motion Pro offers a full line of black vinyl OEM replacement cables, braided stainless steel Armor Coat cables, the new bright silver finish Argent cables, and the new Blackout cables that feature black fittings on black vinyl housing for the complete "blacked out" look. All Motion Pro clutch cables are available with our longitudinally wound (LW) housing that provides a smooth, easy to pull, compression free clutch cable.
Building a custom bike? Have an Old restoration project? The Motion Pro's custom cable shop can meet all your custom cable needs and carries a full line of housing styles, fittings and inner wires. The Motion Pro custom cable shop offers professional service, quick turn-around times and all custom cables are made in the USA. Bring in the cable you need weather you need to just replace it or you need an alternate length we will get it packed up and sent out for you and ensure the cable you get back is what you are looking for.
Argent Cables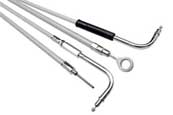 Bright silver textile weave
Clear Armor Coat protects chrome and painted surfaces
Premium chrome fittings
Clutch cables are available in coil-wound or LW housing
LW (longitudinally-wound) Clutch Cables resist compression under heavy loads to deliver a precise, positive, non-mushy feel for enhanced clutch performance
Image is for reference only, actual product may vary
Armor Coat Cables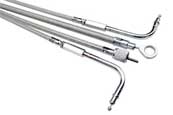 Attractive stainless steel weave with performance and attitude
Clear Armor Coat protects chrome and painted surfaces
Premium chrome fittings
Image is for reference only, actual product may very for your application
Blackout Cables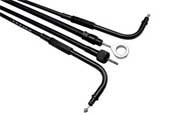 Black vinyl housing
Black fittings
Image is for reference only, actual product may vary