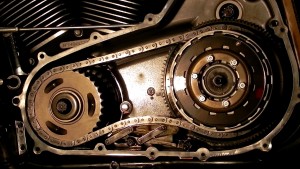 We have seen numerous issues on Harley Davidson primaries 2007 and up (2006 and up Dyna's). This is when Harley started using their 6 speed transmission standard in the Big Twin motorcycles. There are several model-specific issues as well as two major components–the compensating sprocket and the chain tensioner–that should be addressed on all models.  At the time I wrote this we had two 2008 FL Touring models in the shop for primary issues. We wanted to find solutions for our customers that would provide trouble-free riding for years to come.
Lets start off with symptoms you may be experiencing.
Loud whining (almost grinding) sound from left side of motorcycle.
Unnerving loud "clunk" when starting and stopping engine as well as when accelerating and engine braking.
Grinding or banging sound when starting the motorcycle.
What is the solution?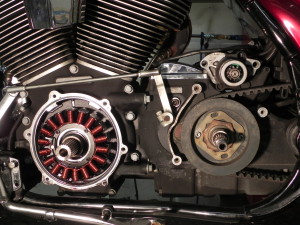 We feel your best bet is to upgrade your Compensating Sprocket and Chain Tensioner.  However a complete evaluation is necessary to determine if any other components are damaged or worn.
Problems that could be found in addition to the compensator and tensioner can  include (but are not limited to) inner primary bearing, clutch hub, ring gear, primary chain. We will disassemble and inspect all your primary and secondary drive components and report what items if any need replacement at time of upgrade service. Once this evaluation is complete and you know the full extent of damage and wear we will provide you a complete estimate and your upgrade options. The time is now whether experiencing any of these symptoms or Not. Upgrading sooner can save you money. These problems will not go away. They will continue to get worse to the point of a major failure and you don't want that.