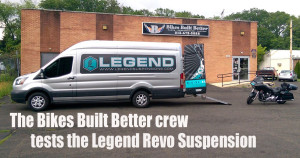 Okay, you own a beautiful Harley-Davidson. Love the way it looks…but really, how well does it ride?
If you find yourself swerving to avoid manhole covers or cringing when you have to cross a set of railroad tracks, stop lying to yourself. For what you paid for that motorcycle, it should ride much better than that. And now it can!
Last week we tested the new Legend Suspension 2015 Road Glide, equipped with their new Revo touring suspension. Both Chuck and Stephanie took the bike out and flogged it. We didn't avoid potholes and manhole covers, we HUNTED them. Went in search of the nastiest stretches of road we know of. And how did this Legend Revo-equipped Road Glide perform? Incredibly. Like a flying carpet. It soaked up holes and bumps that we swore would crack the rims and we barely noticed them.
The Legend Revo shocks are 100% American made in Sturgis, South Dakota. Here are some of the more Revo-lutionary features…
*The unique spring design provides a large "sweet spot," which is why they are comfortable for riders from 145 to over 200 lbs…without any change in the preload adjustment.
*Need to adjust the preload? Just grab the spring and give it a twist. No tools needed.
*The Revo-A shocks also offer adjustable rebound with a simple little clicker knob. (The Revo shocks have a fixed rebound rate, the Revo-A's have adjustable rebound.)
*Lifetime warranty!