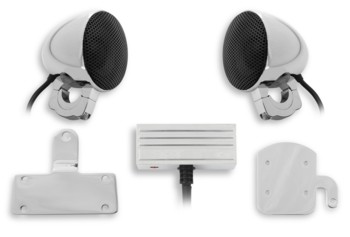 Cycle Sounds, LLC, a market leading premium motorcycle and motorsports audio manufacturer has recently introduced their Series 3 audio system specifically designed and engineered for the V-Twin market. Each Series 3 Premium Sound System comes complete with your choice of 3 inch bullet speakers (black or chrome), high-powered mini amplifier with wiring harness and mount, handlebar MP3 mount, speaker mounts and all necessary connectors and wires to complete installation. These speaker systems are designed with a patented multiple shim mounting system that easily attaches to 7/8", 1" and 1¼" bars without any additional mounting hardware. These lightweight bullet speakers produce clean crisp sound, with minimum distortion…even over engine and road noise. Systems work with iPod, iPhone, mp3, Satellite Radio or any device that uses a 3.5mm earphone jack. The Series 3 Premium Sound System works perfect on any style motorcycle.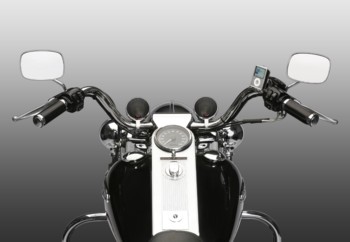 Cycle Sounds, LLC also produces a wide variety of audio components, not just for the V-Twin market, but also for sportbikes, metric cruisers, ATV, UTV, scooters and the new Can Am.
CLICK HERE TO FIND CYCLE SOUNDS FOR YOUR MOTORCYCLE
Cycle Sounds is your source for motorcycle speakers and motorcycle stereo and audio products.