Spring Motor Mania 2010 is coming fast!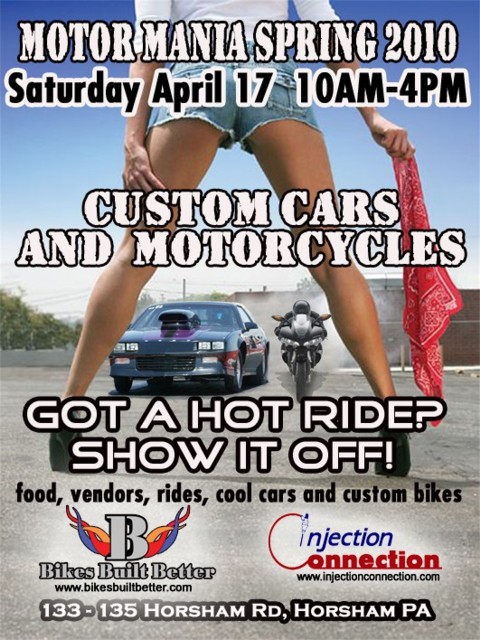 We're doing our second combined event with Injection Connection, the world-famous hot rod car guys next door. Last spring's event was fun, but this year we're tweaking things to make it even better.
More food! On top of our great burgers and hot dogs we're going to have pizza and heroes from famous local restaurants. And we'll have TWO grills going during the afternoon.
More vendors! We're still firming up the list, but there should be a nice selection of new accessories and services for you to drool over.
More things to do! Car guys are happy just sitting around looking at their cars, but we motorcyclists like to DO things and GO places. So instead of just another bike show, we've come up with a twist on the old "scavenger hunt" that will get you out to see some pretty scenery, challenge your brain—but just a little—and could win you a really, really nice prize. But not to worry, the stuff you'll have to scavenge will fit in your pocket.
So plan to spend a few hours with us on Saturday, April 17th 2010. You can see some cool machinery, ride some great roads, eat some good food, and even win some prizes.
Come on out; this is sure to be a Great Time for all.