About Foil Hat Racing
In 2010, Joe and Chuck of Foil Hat Racing started building their Land Speed Racer. After some research they decided that a 1984 Honda VF500 Interceptor engine in a Honda Magna frame (chosen for the longer wheelbase) would form the basis for the bike. Working with the speed gurus at Injection Connection and Bikes Built Better, they fabricated a custom electronic fuel injection system, and fitted a custom turbocharger with a chilled intercooler.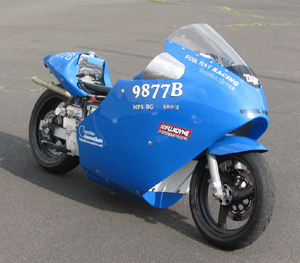 All that fits (just) behind a fairing from Air Tech. Several local talents such as McFatridge Welding and Visual Impact painting contributed to the effort. Hundreds of hours of custom fabrication at Bikes Built Better resulted in an incredibly successful maiden voyage to the Bonneville Salt Flats. The Foil Hat Racing team and Edgar (the bike was named after the crazy alien in Men In Black) broke--no, smashed--three existing Land Speed records, and set a new one.
Taking turns riding the bike, Chuck and Joe took the following records:
MPS-BG 500 (Modified, partially streamlined, blown gas, 500cc) 120.57 mph: 38mph over the previous record.
MPS-BF 500 (Modified, partially streamlined, blown fuel, 500cc) 141.236 mph; DOUBLE the previous record.
M-BG 500 (Modified blown gas 500cc--no fairing) 118.674: 45 mph over the previous record.
M-BF 500 (Modified blown fuel 500cc--no fairing) 132.905 mph no previous record